Our new Pro Targets come as a next generation large and medium target with an adapter bracket. They can either be used as two separate targets ( medium plus large ) or combine to provide a two zone "head plus body" target. When combined, a hit is required on both zones to trigger and can be configured for 1 + 1 tap or 2 + 1 tap, with each zone hit logged individually for post action analysis, identifying the order and timing of hits.
This provides maximum versatility for target use, either as a regular target range or as two zone targets for training purposes, providing a new level of configurability for enhanced El-Presidente style drills or Failure To Stop drills.
Pro Targets can be broken down and used as individual targets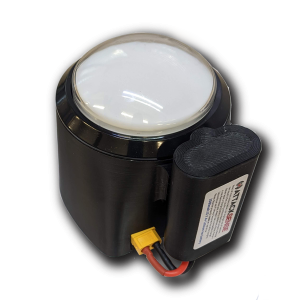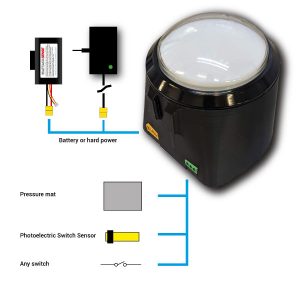 We now have wireless trigger buttons available, these are a great addition to custom rounds and allow you to control the movement of shooters throughout a course of fire. Buttons operate either from battery or hard power and are triggered with either a press of the button or using an external pressure pad, beam break sensor or infra-red detector.
They also allow shooters to start a round by pressing the button and can even be used as respawn counters when using the targets as in-game objectives in a CQB or skirmish game.
To complement our Trigger Buttons we also supply an optional beam break sensor which incorporates into the base of the trigger button, allowing you to easily trigger when a shooter runs between two points, for example at the end of a course of fire.
For more information, contact us through our home page.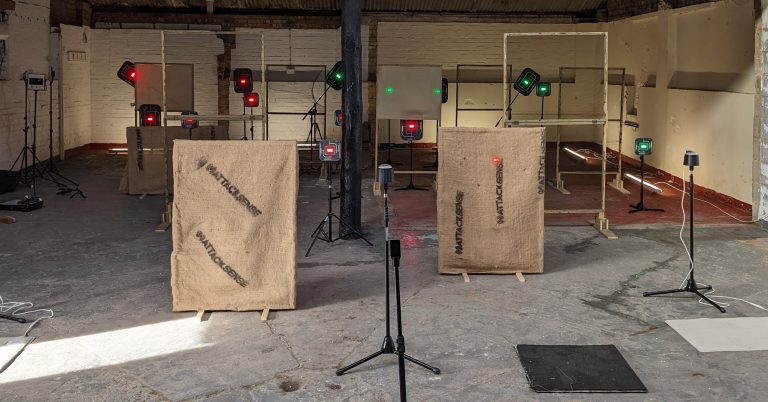 We have expanded with a new facility for demonstrating AttackSense in all its glory! Here we have more space for demonstrating courses or fire or multi lane setups. We also have the ability to provide dedicated training if you want to learn how to get the most out of your AttackSense target systems. Look out on our YouTube channel at https://www.youtube.com/@AttackSense/ for more instructional videos on getting the most out of your AttackSense system.
If you want to learn more about our training and demonstrations get in touch
AttackSense joined the British Army at Insomnia 2024, one of the largest gaming festivals. There we provided a shooting range complete with modified SA80 Electric Airsoft Guns, visitors queued to try out the range and get their names on our interactive leaderboard using the Big Screen System. To help keep queues down we used our new 2-4 shooter mode with leaderboard scoring, providing all the bragging rights for friends shooting at the same time as well as a final score and leaderboard position for individual performances.
The event was an immediate hit and the highlight of the show for many visitors. If you regularly run busy events, be sure to update your AttackSense Commander app to the latest version to benefit from the new muti shooter leaderboards feature.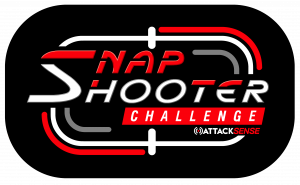 The AttackSense Snap Shooter Challenge is an initiative to maximise competitions you organise by allowing competitors at your event to gain points towards a league, with a season grand finale organised by us.
Each event has a combination of single shooter and head to head knockout rounds, which is sure to create an amazing atmosphere. This is all automated using our in-build match processing and real-time rankings on the AttackSense Big Screen System, so running events is easy and will give competitors an experience no other practical shooting match can provide.
We're looking for sites to come on-board and organise events, so head to http://www.snapshooterchallenge.com or contact us for more information.
If you use AttackSense to rent out ranges or for team building exercises, our new Sessions feature can streamline the process for you! With Sessions, you can create a session for a lane with an optional end time, at the end of the allocated time the lane shuts down automatically and can be optionally extended with more time.
All activity in the session is logged under the session, and a report can be printed showing activity for all shooters in the session, perfect as a take-away for group bookings for ultimate bragging rights.
Using our Range Commander app, sessions can be created across multiple lanes, with all stats consolidated for all lanes, so larger groups can use your whole facility and still know who's best.
Keep Up To Date
It's been a while since our last email, and much has been added to the system in that time. Some of the feature have already been mentioned but so much more has been added, so make sure you're up to date with the latest release by visiting the Google Play Store and updating your app.
Some of the key features are:
Improvements to Sessions, allowing you to provide time limited access to lanes, track top scores and provide takeaway printouts restricted to only the top scores and shooter activity during the session. This is great for group bookings and teambuilding sessions.
You can restrict the available round types and difficulties to only those you have created custom difficulties for, allowing you to simplify the offerings and difficulty levels customers can see and use.
Many two shooter and multi shooter rounds now score as well as declare a winner, providing interactive leaderboards based on individual performances.
The front camera on the Commander tablet can be used for scanning ShooterID cards and logging in from the ShooterID app, making it easier to identify shooters, you can also have an optional white panel to help light up ShooterID cards in darker ranges.
It's now easier to customise the sound effects used in the app, allowing you to customise the experience to your region and provide more immersive Custom Rounds.
In hard wired installations, targets automatically negotiate master / slaves to make switching the range on in the morning much easier.
Updates are free and easy, either update through the Google Play store or from our download site at app.attacksense.com . As always we're here to help with support, if you need any assistance you can reach us at support@attacksense.com .
DSET Bristol
AttackSense will be exhibiting alongside Survitec at the Defence Simulation Education & Training event in Bristol again this year, on the 5th – 8th June.
Survitec's Inflatable Walls Training System is a rapidly deployable, flexible and robust training environment to create complex interconnected rooms in any environment, which AttackSense integrates with to provide repeatable and measurable training scenarios.
We'll be providing a close quarters training environment and of course a have-a-go shooting range with leaderboard to again steal the show with a fun and challenging interactive experience.
Midlands Airsoft Fair
If you're heading to the Midlands AIrsoft Fair in Newark on June 4th then be sure to stop by and say hello. We'll be there with a range as usual and of course our leaderboard! We tend to expand into whatever space we're given plus more so expect us to be there with a course of fire, interactive trigger modules and maybe something new.